No Holding Back: Using Data to Review Administrative and/or Student Success Hold Policies among Public Postsecondary Institutions in the Western Region
Ascendium Education Group and Lumina Foundation have jointly awarded $452,500 in grants to WICHE and AACRAO to help institutions better understand the impact that the practice and policies of administrative and/or student success holds can have on student success. The 18-month project will collaboratively build upon existing work by AACRAO and will run from May 2022-October 2023.  Read the press release here. 
Purpose of this project:
The goal of this project is to give institutions tools to (re)evaluate their administrative and/or student success hold policies to improve student success and to better use their data in policy formation. The selected institutions will participate in a community of practice over the course of 15 months and receive support from WICHE and AACRAO as they go through the exercise of collecting, cleaning, and analyzing administrative hold data and revising policies based on those findings. The selected institutions participated in an in-person training in Boulder, Colorado at the start of the project in August 2022 and will continue to meet virtually every quarter for two hours for the next year.  
Ultimately, two written works will come out of this project in early fall 2023. WICHE will distill findings and lessons learned from this project in a seminal brief on the influence of policy on practice that includes qualitative findings from interviews and focus groups with students and administrative and business leaders from the participating institutions. AACRAO will develop a technical handbook that will allow other institutions to replicate the work. The technical handbook will focus on data identification, data cleaning, and analysis efforts.  In addition, it will aim to have data collection guidance for common student information systems. 
Community of Practice:
Twelve members of the Alliance and Forum were selected in July 2022 from a robust pool of applicants to participate in a year-long community of practice to learn how to collect, clean, and analyze their data to better understand the impact that administrative and student success hold policies and practices on their campus have on students. Read about the twelve institutions here.
California State University Fullerton
Central Washington University
Eastern Oregon University
Flathead Valley Community College (Montana)
Great Basin College (Nevada)
Idaho State University
Laramie County Community College (Wyoming)
Portland State University (Oregon)
University of Alaska Southeast
University of Arizona
University of Guam
University of Nevada, Las Vegas
---
This community of practice is comprised of:
12 institutions representing 10 states or territories
7 institutions that have 30% or more Pell recipients 
5 institutions with MSI status
3 institutions serving community college students
Institutions serving as few as 1,500 and as many as 40,000 degree-seeking undergraduates each year
Institutions ranging in location from rural campuses to urban locations
Institutions using Banner, Peoplesoft, colleague, and CAMS Enterprise SIS
---
Administrative leaders, registrars, bursars, enrollment specialists, directors of IT and IR from these institutions gathered in Boulder, Colorado on August 3-4, 2022 to set intentions for the year and to participate in technical trainings conducted by AACRAO.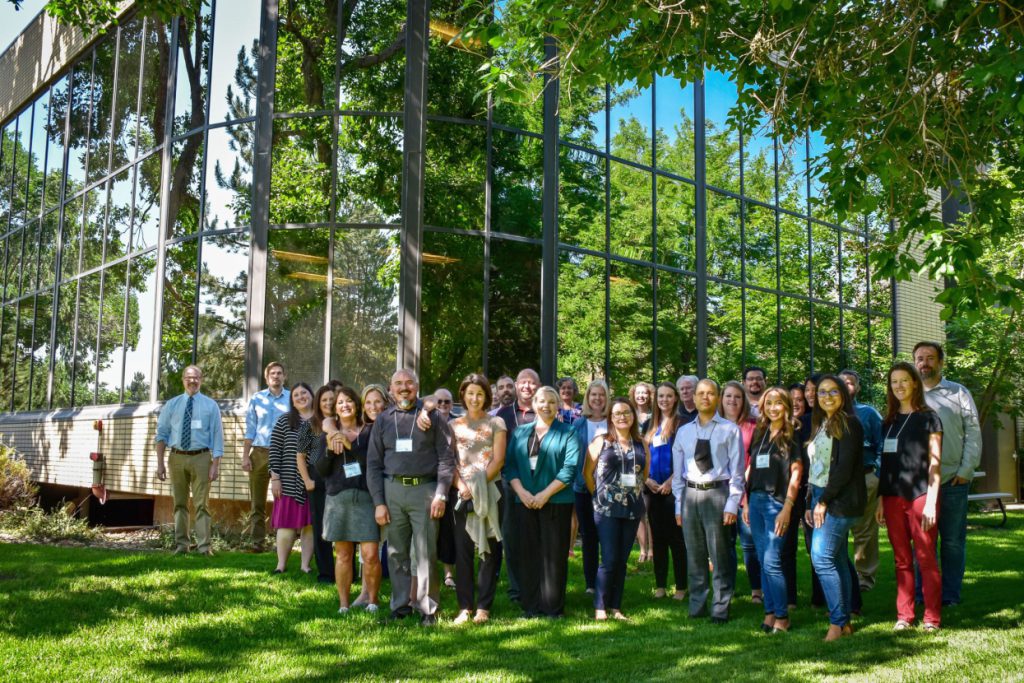 Webinar
On May 18, 2022, WICHE hosted a webinar on the current state of administrative and student success holds.
It can be difficult to get the attention of a college student. Professors can always connect with students in class. However, advisors and administrators have few means to command attention, especially if calling, texting, emailing or using the postal service aren't successful. The ability to use holds to prompt a student to take an action is one of the few resources in an institution's toolkit. Recent research reveals the ubiquity of this practice, but also the limitations. Members of WICHE's Western Academic Leadership Forum (Forum) and Western Alliance of Community College Academic Leaders (Alliance) are invited to attend a one hour webinar to hear about the latest research on administrative holds policies and practices at the state, system, and institution-level from panelists from the American Association of Collegiate Registrars and Admissions Officers (AACRAO), Education Commission of the States (ECS), Ithaka S+R, and National Association of College and University Business Officers (NACUBO).
Moderator: Sarah Leibrandt, Director of Academic Leadership Initiatives, Western Interstate Commission for Higher Education (WICHE)
Panelists: Mary Fulton, Senior Policy Analyst, ECS; Wendy Kilgore, Director of Research, AACRAO; Bryan Dickson, Director of Student Financial Services and Educational Programs, NACUBO; James Ward, Ithaka S+R